One WaiBOP United player stands to win the Supporters' Player of the Year trophy for their efforts during the 2013/14 ASB Premiership season.
The trophy stands at 320mm high and has been donated by our supporters group.
As fans, you have the opportunity to vote for your player of the year.
Please email the name of your player of the year to dwayne.b@WaiBOP.co.nz
Voting will remain open until 5pm on Monday March 17, 2014.
More about the trophy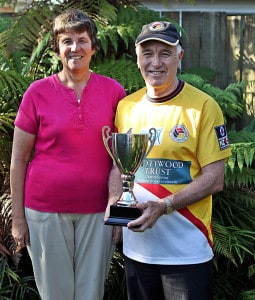 Long-time Waikato FC and now WaiBOP United supporters Marilyn and Graeme Richer (pictured right) are among a number of fans who have contributed towards the Supporters' Player of the Year trophy for WaiBOP United's inaugural season in the ASB Premiership.
The MP for Hamilton East, David Bennett, who is a football fan and enjoys the odd game for Waikato Dragons, has also made a contribution, as is the Cambridge Edition newspaper.
Anyone who would like to donate toward the cost of the trophy can do so by contacting Grant Stantiall at kiwicanary@xtra.co.nz.