WaiBOP United's end of season award winners have been announced. They are: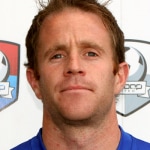 Chad Coombes – Player of the Year.
Player of the Year: Chad Coombes.
Players' Player of the Year: Aaron Scott.
Supporters' Player of the Year: Robbie Greenhalgh.
Young Player: Reid Drake.
Leading Goal Scorer: Federico Marquez (6 goals).
Head coach Peter Smith said each winner deserved their award. "Chad, Aaron and Robbie were senior leaders among the group, so I'm pleased each of them received individual recognition," said Smith.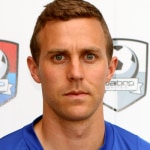 Aaron Scott – Players' Player of the Year.
The Player of the Year award was decided by a season long points tally decided by the coaching staff. "Every Tuesday we'd come in and as part of our de-brief give the players 1, 2, and 3 points for performance and contribution. At the end of the season we added it all up and Chad came out on top, which didn't surprise me one bit," explained Smith.
"He was one of the vocal leaders in the group, brought a professional attitude to games and training and made sure everyone was on their game. He was excellent for us this season."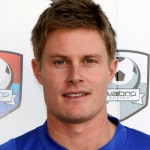 Robbie Greenhalgh – Supporters' Player of the Year.
Smith wasn't surprised captain Aaron Scott was voted the Players' Player. "Aaron's another one of our leaders, both as captain and with the presence he brings to the group. The players felt comfortable going to him and I think that reflects in the esteem with which he's held by his peers."
The Supporters' Player of the Year was decided following a public vote. "I'm chuffed for Robbie," said Smith. "He was another of the lads that helped the group keep our standards high and I'm pleased that got recognised."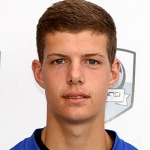 Reid Drake – Young Player.
Communications Manager, Dwayne Barlow, explained Greenhalgh was a clear winner. "It was interesting following the voting trends over the month or so we had the voting open for," said Barlow. "To start with they were spread around, but Robbie came home strong, aided by a flood of votes clearly infused by his Cambridge connection."
Smith also had positive words for Drake and Marquez. "Reid was a leader in the youth team then came in and re-established himself with the first team, holding down a starting spot in the side over the last month or so," said Smith. "Federico, on his day, was a real handful and among the leading strikers in the league."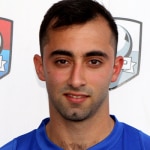 Federico Marquez – Leading Goal Scorer.
The winners were announced at an end of season function at Cambridge FC's John Kerkhof Park that doubled as a thank you to the franchise's sponsors and the Cambridge FC volunteer army.