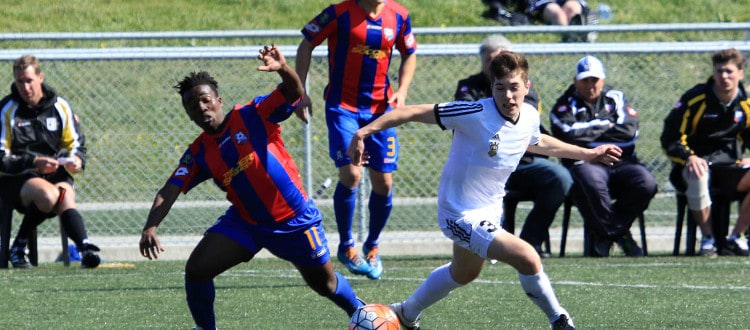 The WaiBOP United Youth team gained its first competition point for the 2015 season with a scoreless draw against the side from the Wellington Phoenix on a windswept field at Wakefield Park on Sunday afternoon. The extremely blustery conditions proved to be a challenge to both teams and outright scoring opportunities were few and far between.
For large periods of the first half WaiBOP dominated the match in terms of possession and territory. Dylan Bull playing wide on the left hand side made several penetrating runs and always looked dangerous, however WaiBOP were unable to capitalise on these opportunities. The best scoring chance of the half was to fall to Paul Clout who narrowly missed chipping the Phoenix goal keeper from thirty yards out.
The second half was to follow a similar path as the first. The WaiBOP back four of Bailey Webster, Nathan Kinney, Alfie Rogers and Casey Garner looked very solid and dealt with any threats posed by the Phoenix attackers. In goal, Ryan Watson had few if any direct saves to make but he dealt well with the swirling ball in the air when it was crossed into the box. WaiBOP were to miss several scoring chances in the second half with some poorly directed shots soaring high over the goal. Late on in the match there was one final chance for WaiBOP to take all three points. Dylan Bull made another run into the Phoenix's penalty area reaching the goal line before cutting the ball back across the goal but once again poor finishing saw the match remain scoreless.
Head coach Michael Built commented after the match that the Phoenix were a solid side. Similar to last week he was disappointed that WaiBOP did not have more to show for what was another good performance in difficult conditions. He added that ordinarily a point away from home against a team who was topping the table going into the match is a satisfactory result, however his side should have bagged all three points had they been more clinical in the final third.
WaiBOP line-up: Watson; Webster, Rogers, Kinney, Garner; Woodlock (Robb 54m), Viviani, Hayes, Mechell; Bull, Clout (Kipara 69m). Sub (not used): Brown, Searle.